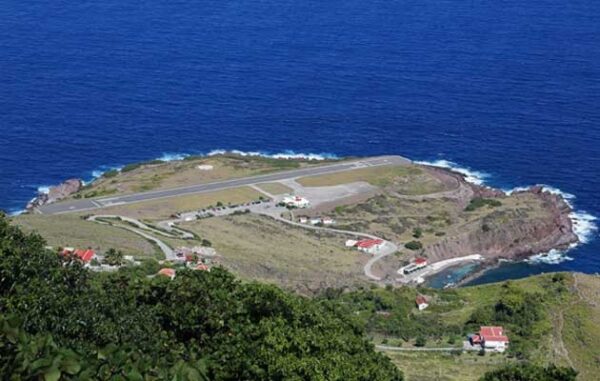 Travel Services
Saba Island Airport
|
Saba Airport  Caribbean SAB Juancho E Yrausquin
Welcome to Saba Island Airport Netherlands Antilles which many experienced pilots rate it as the number one most dangerous airport in the world, due its location the length of the landing strip and the crosswinds they could face.
Pilots in order to be able to land in that strip should have a special training just to land in there.
no major tragedies have occurred there but the over excitement of some passengers but that is part of the ride.
Saba Island Airport Netherlands Antilles
The Juancho E. Yrausquin Airport, it's airport strip is about 400 meters long (1300 feet), and is set in the island flattest portion of land.
Now you can picture a little how is the rest of the Unspoiled Queen. It's location in a 60 feet over water and flanked by rocky cliffs. It has some big X white marks on the strip meaning It is not suit for commercial flights.
Saba Airport Caribbean Landing
Saba Airport Caribbean tends to be windy at times, and cross winds could cause Some turbulence on the plane taking some extra skills from pilots and some extra excitement for the thrill seekers.
Fly the Island of Saba in the Dutch Caribbean
There are few companies offering flights to the Island, Winair that offer flights any time of the year and Windward Express Airways that offer charter flights from and to our neighboring islands as well.
Fun Island of Saba Airport Landing
It is a very safe flight, so safe that it makes about 5 flights a day, and it is a short flight of about 12 minutes from Princess Juliana International Airport in St. Maarten.
In case you don't want that kind of emotions, there is a ferry boat service, which is very nice and fun also.
Sometimes airlines companies change their schedule due of season demand and expected weather conditions, have that in mind before planning your trip to the Island.
Saba Island Airport code SAB
The airport is the shortest international runway in the world.
It has a bar, no air traffic control station, and the airport manager is known by pilots for paying close attention to every incoming flight, and if it rated as too sloppy he will most assuredly complain.
Saba Island Airport Netherlands Antilles