Located in the quiet and secluded village known as Hell's Gate, under the new ownership of Lyliane and Michel Job reopened October, 2001.
The Jobs, who are French-born, naturalized American citizens, decided that 22 years of Boston winters were sufficient and they started surfing the Web looking for small hotels or "B&Bs" in the Caribbean.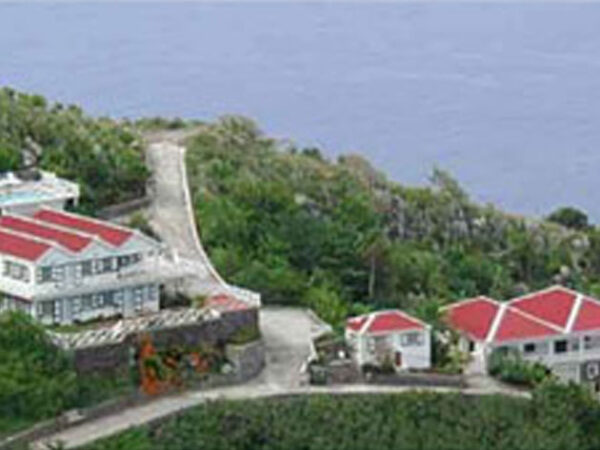 "Our children were raised, and we were looking for a new adventure," Michel said, with a definite French cadence in his lilting English. They fell in love with the guesthouse and the five-mile square island, only 15 minutes from St. Martin. They have retained the look and feel of the place, as well as some of Jim Siegel's, the previous owner's, distinctive artwork.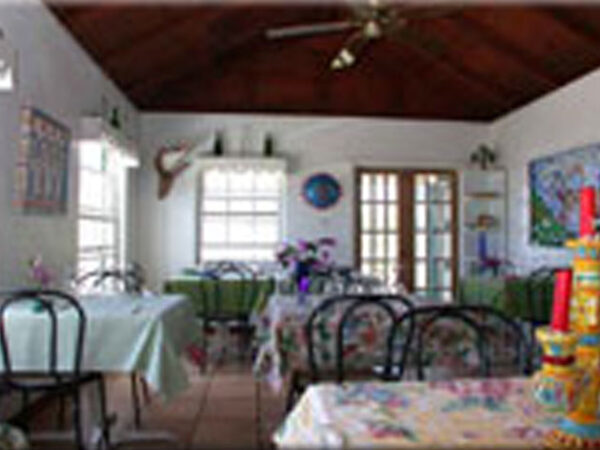 The Gate House Hotel Accommodations
The Gate House Saba Island – includes five double rooms tastefully furnished in a bright Caribbean style.
All rooms at have private bath, some with tub and/or walk in showers. Hair dryer in all hotel rooms. Enjoy ocean and island views from each accomodation or from their patio or balcony. Radio/clock in each room.
The Cottage – Nestled in the middle of cashew and orange trees, the cottage is a perfect hideway for a couple, honeymooning or not. The living/dining room opens to a large private, patio. Fully equipped kitchenette, bedroom and bath with walk-in shower.
The Villa – The luxurious villa offers four airy, spacious bedrooms with ocean and/or garden view, three baths (two ensuite) fully equipped kitchen, vast dining room, and living room with cable TV, radio, etc..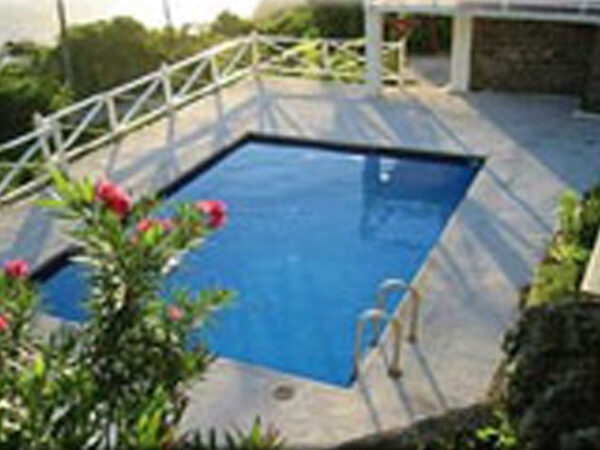 The Gate House Dutch Caribbean Amenities
Private pool, deck, balconies and patios galore to enjoy the sun or the stars.
Balconies surround The Gate House and are perfect for basking in the sun, reading, relaxing or catching a breathtaking Saban sunrise. Cool off with a dip in the rooftop pool which boasts views of five surrounding islands.
DINING: The Gate House Cafe offers breakfast and dinner prepared by Michel, who has always been the family chef. The three-course, prix-fixe menu has a Creole presentation and a French presentation. The room can seat 16-20, and up to 50 for a party. The restaurant is open at 6:30 pm, Monday through Saturday. Lyliane, an experienced sommelier, is full of knowledge on the excellent wine offering, the restaurant's signature. The Jobs previously had two wine outlets in the Boston area and have already built up a very respectable wine cellar. In fact, Wine Spectator, a prestigious international wine connoisseur magazine, has recognized the Gate House Restaurant for one of its annual awards (2002) to restaurants with outstanding wine representation.
The Gate House Saba Island Map
Source: travelsplace.com