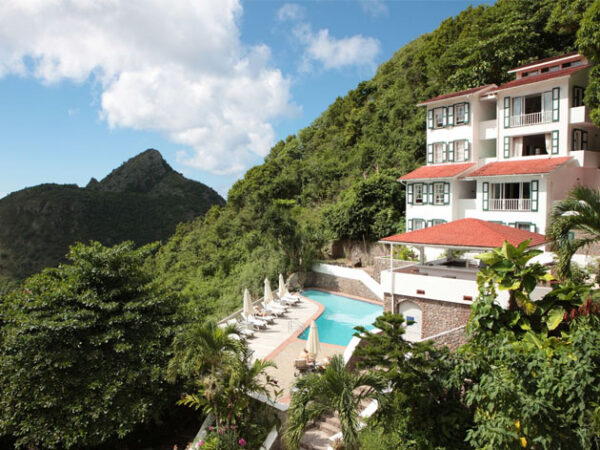 Resorts
Queens Garden Saba
|
Welcome to Queens Garden Saba Netherland Antilles
Queens Garden Saba is a small luxury resort tucked away on the beautiful island of Saba, our exclusive property also presents the reality of the destination, with an architectural style reflecting the traditions of Saba.
Hiking around the island through the rainforest, never knowing when you might have to swerve to avoid lizards or iguanas. Scuba diving the beautiful reefs in the oldest Marine Park in the Caribbean.
This Resort is one of the main luxurious complexes on the island with an informal and elegant atmosphere in a beautiful setting that offers beautiful views of the tropical jungle as well as the mountains and stunning panoramic views of the Caribbean Sea.
This development has 12 spacious suites elegantly decorated which occupy a full floor for greater freedom and comfort of their guests where they can enjoy luxurious amenities such as a private jacuzzi and breathtaking views of the sea and the tropical rainforest.
To stay in this place is only with the intention of enjoying and letting yourself be pampered with great things that this place offers, both meals and dinners, as well as the various activities that are very popular in this destination, with which you can enjoy both the sea while diving and Snorkeling, as from the mountains practicing hiking and enjoying the beautiful scenery.
And complement the enjoyment of a relaxing spa session which will enjoy and make you feel relaxed throughout your stay with its various services ranging from massages to beauty treatments of various types.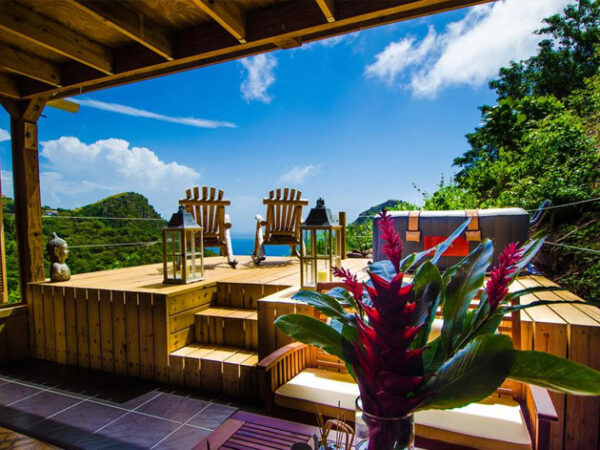 Enjoy Queen's Garden Resort Saba in the Dutch Caribbean
Watching movies in your suite, counting stars in the outside lounge, indulging yourself in the Frangipani Spa. Deciding what kind of wine to choose with dinner.
At Queen's Gardens our team strives to make your experience magical.
Experience an oasis of serenity and refinement. Here, you're welcomed into a graciously intimate environment – a tranquil atmosphere with a warmly residential style and the address is like no other.
Frangipani Spa by Queen's Gardens Resort
It is a unique place that can be found on the island, a space in comparison where you will find a wide variety of treatment know that range from body massages of all kinds as well as various beauty treatments, such as body wraps and manicure and pedicure services to mention a few.
This renowned spa has been recognized and is famous for its own brand of organic body products that are exclusively designed and produced for this place.
The services that can be found are designed especially for your needs, and so you can enjoy an excellent stay on the island to relax and recover peacefully from the daily hustle and bustle that is lived in their places of origin.
The relaxing atmosphere that is felt in this spa surrounded by an environment with a pleasant touch oriental area achieving a calm and friendly environment with a warm feeling that invites you to relax.
All the materials and design of this acid place focused in order to wrap and mix with the environment achieving a set together with the nature that surrounds it.
Treatments that you can find are like the most popular ones that are usually found in spas that range from complete body massages, beauty treatments such as various facial therapies, manicure and pedicure waxing and many others to meet the needs of each person in particular.
All offered with exclusive and pleasant personalized service which will make you feel pampered and the partner to relax and feel rejuvenated and healthy with its various treatments that will help your body to feel better.
On top it off they offer weekly zumba sessions as well as yoga complemented by a menu of lunches and fruit extracts.
The spa is equipped with a Finnish Sauna, Turkish steam bath sauna, Jacuzzis, waterfall shower, a relaxation area, and a relaxing outdoor swimming pool.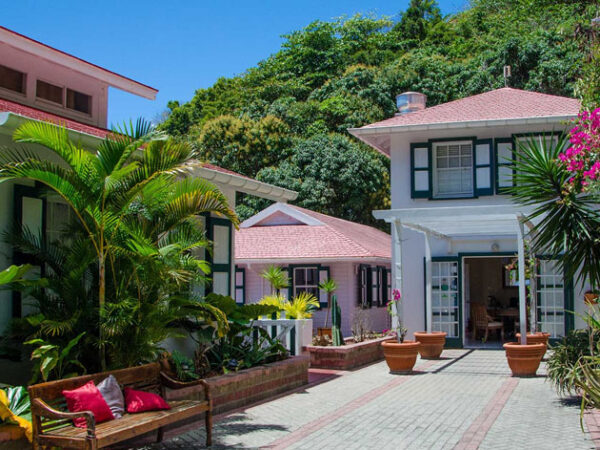 Queens Saba Resort great Location  in Windwardside Island of Saba
Situated in the finest of locations, the world is at your fingertips at the Queen's Gardens Resort on Saba.
The Queen's Gardens Resort is Saba's luxury resort and is an upscale, casually chic, yet elegant hotel, with magnificent vistas of the rainforest, the mountains and the Sapphire blue Caribbean Sea.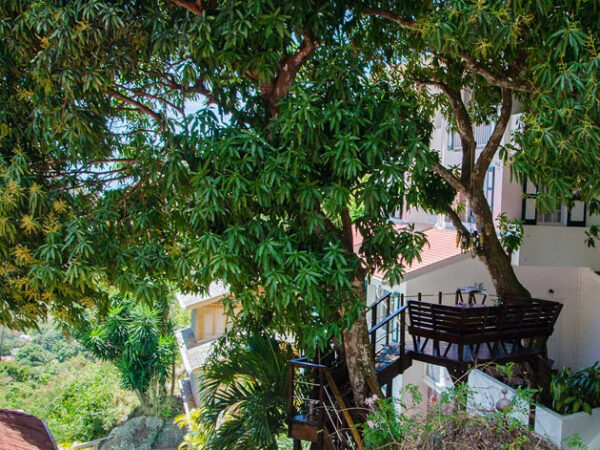 Nice Queens Resort Saba Lodges
The resort features 12 spacious and elegant suites, each occupying a complete floor of a guest building.
Most suites have a panoramic view of the area and feature a private Jacuzzi with a stunning view over the Caribbean Sea or the Saba Rainforest.
Staying at this Resort is a very pleasant experience in which to enjoy its elegantly designed suites and with a decoration adorned with antiques with an exquisite taste, that open up to beautiful panoramic views.
That this island offers in the middle of the Caribbean Sea with its extraordinary tropical forest and its mountains that rise over the sea in the Netherlands Antilles.
In this suites you can enjoy the beautiful amenities such as the private Jacuzzi with a panoramic view of the Caribbean Sea or the rainforest as well as its mountains accompanied by the comforts of the modern world to complement your stay.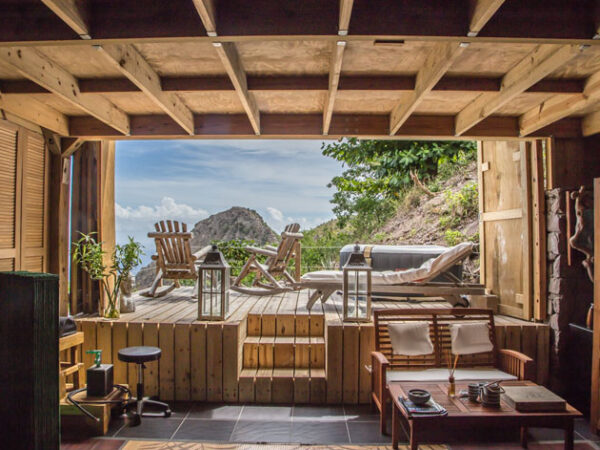 Great Queens Garden Saba Amenities
Queen's Garden Resort & Spa offers an airport shuttle at scheduled times.
Guests can indulge in mani / pedis at the spa, and local cuisine is served at Queen's Gardens, which is open for breakfast, lunch, and dinner.
An outdoor pool and a bar / lounge are offered, and rooms at this upscale resort have conveniences like sofa beds and refrigerators.
Queens Garden Saba Restaurant
This Resort has a restaurant with a nice atmosphere of the old west indies with a modern touch in a casual atmosphere.
The menus offered with fresh flavors of multiple creations of international cuisine offered by its chef who manages to capture the best of each ingredient.
This place invites you to relax and enjoy the sea breeze and the aromas that surround this place coming from the tropical jungle and its mountains, as well as enjoying the beautiful panoramic views that they offer in this place.
The mindset offered by the chef in this restaurant is simple, starting with the introduction of fresh products made in a sustainable manner, achieving a perfect blend of flavors, skipping the qualities of each one to grant a unique and memorable culinary experience.
A wide selection of wines from both Europe and America that will be the ideal complement to accompany your lunch or dinner, and we are sure that you will find the ideal one for you.
This Queens Garden Saba restaurant offers breakfast or lunch services and even dinner in the comfort of your Suite.
Ocean Bar
This accommodation has a bar that has a view that has views of the Caribbean Sea that offers a delicious variety of cocktails and traditional drinks prepared in these parts of the Caribbean Sea, as well as an extensive menu of wines, spirits and beers.
Chez Bubba Bistro
This is a French type bistro that is located outside the property, only 10 minutes by taxi and belongs to this Resort, and represents an excellent opportunity to dine in a romantic and magnificent place in the light of the candles, outside this accommodation.
This place offers a menu with the classics of a French bistro, where special and different options are offered each day with the freshest ingredients on the island of Saba has to offer.
Queens Garden Saba Island Map