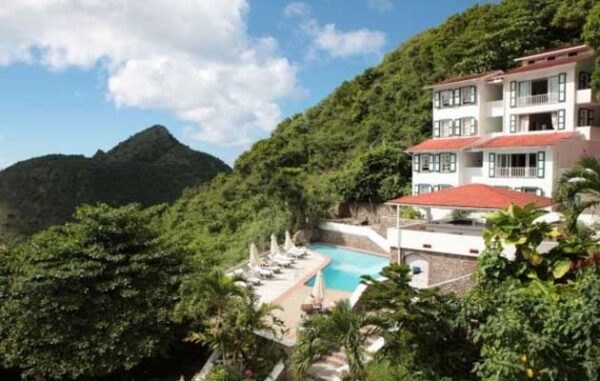 Hotels
Queens Garden Resort and Spa
|
Welcome to Queens Garden Resort Saba Island
A small luxury resort tucked away on the beautiful island of Saba. Our exclusive property also presents the reality of the destination, with an architectural style reflecting the traditions of Saba.
Hiking around the island through the rainforest, never knowing when you might have to swerve to avoid lizards or iguanas. Scuba diving the beautiful reefs in the oldest Marine Park in the Caribbean.
Watching movies in your suite, counting stars in the outside lounge, indulging yourself in the Frangipani Spa. Deciding what kind of wine to choose with dinner.
At Queen's Gardens our team strives to make your experience magical.
Experience an oasis of serenity and refinement. Here, you're welcomed into a graciously intimate environment – a tranquil atmosphere with a warmly residential style and the address is like no other.
Situated in the finest of locations, the world is at your fingertips at the Queen's Gardens Resort on Saba.
The Queen's Gardens Resort is Saba's luxury resort and is an upscale, casually chic, yet elegant hotel, with magnificent vistas of the rain forest, the mountains and the Sapphire blue Caribbean Sea.
The resort features 12 spacious and elegant suites, each occupying a complete floor of a guest building.
Most suites have a panoramic view of the area and feature a private Jacuzzi with a stunning view over the Caribbean Sea or the Saba Rain forest.