Clinging to a steep saddle between Mt Scenery and Bobby Hill, it has more steps than pavements, the classic Saba cottage is a neat structure of white-painted wood, hipped roof of red tiles, and green trim.
Older houses have a kitchen chimney. Several dozen well-preserved examples are scattered through the village, set in gardens of colourful blossoms. Most newer buildings stick to the colour scheme of white walls and red roofs.
You can stroll briskly from one end of Windwardside Saba to the other in ten minutes — or stretch your explorations out to a whole morning, allowing time to pause and admire the amazing views in all directions,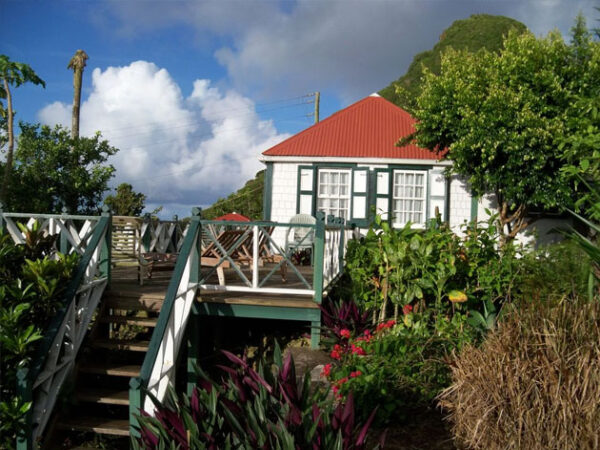 enjoy the charming architecture, and negotiate the flights of steps cut into the volcanic rock which take the place of lanes and driveways on this vertiginous island.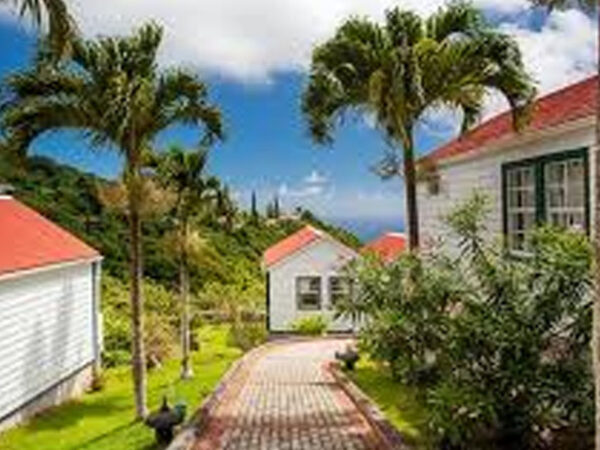 Windwardside Saba Dutch Caribbean Island
Towering over is the (often cloud-shrouded) peak of Mt Scenery — the highest point in the Kingdom of the Netherlands, and worth climbing for that reason alone. The trail to the top, like most Saba paths, is really a long flight of steps (1,064 is the official count), and begins just on the outskirts of the village. The climb takes about an hour and a half, through lush cloud forest most of the way. Expect it to be damp and misty, and look out for orchids, begonias, and tree ferns. At the summit, if the weather is clear, you have a 360º view of the north Leewards. On a cloudy day, you can hear the bustle  far below, invisible behind thick billows of mist.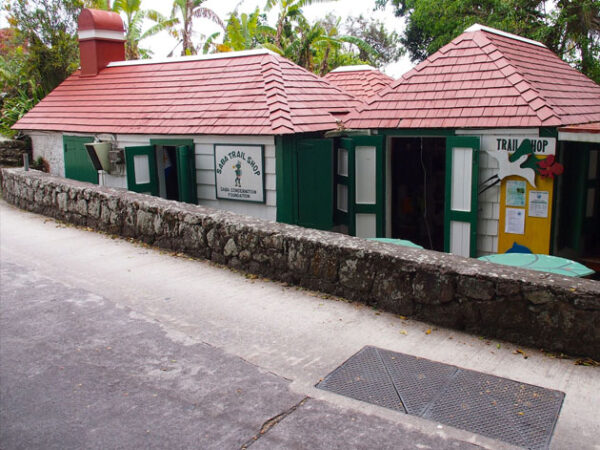 Saba Island Netherland Antilles Restaurants
At lunch- and dinner time you aren't exactly spoiled for choice: you can count the restaurants on your fingers and have a hand free to hold on to your beverage. The verandah views make Scout's Place — a slightly upscale bar — a good bet for lunch. Both Brigadoon and Restaurant Eden offer European-style cuisine in elegant surroundings — the former in a historic cottage, the latter on an outdoor terrace sheltered by trees. Whatever conversation you overhear is likely to be about diving. The near-pristine deep waters surrounding Saba are legendary among scuba fans.
Windward side Saba Netherland Antilles Map
Source: caribbean-beat.com